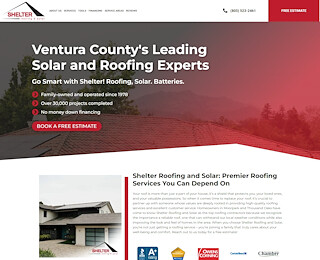 Have you done a Google search for "Roofer near me?" If so, you were probably a bit surprised by how many roofing contractors there are in Ventura County and surrounding areas. While it is true that there are plenty of roofing companies around, it is a common mistake for homeowners to think that all roofing companies are created equally. What separates Shelter Roofing and Solar from its competition? Experience, reputation, and expertise chiefly.
Who We are and What We Do
Shelter Roofing and Solar offers a full suite of professional roofing services, including new roofing installations, storm damage repair, and more. Further, with 40 years of roofing experience, Shelter Roofing and Solar is qualified to repair or install any kind of roofing system, including:
Solar tiles
Asphalt shingles
Metal roofing
Stone-coated steal
Slate
Rubber slate
Clay tiles
Concrete tiles
Green roofs
Built-up roofing
Storm Damage/Roof Repair
Shelter Roofing and Solar Fixes Damaged Roofs
Sometimes – whether it's from a storm, fallen tree limb, or even a man-made cause – roofs can be damaged. In scenarios like these, it doesn't make sense to replace the whole roof because only a relatively small area of the roof is damaged. Fortunately, Shelter Roofing and Solar has a solution for every roof repair need. We commonly deal woith the following kinds of roof repairs:
Repairing foam roofing
Helping a flat roof drain water
Locking down a leaking
Repair and replacing broken tiles
Fixing broken shingles
If your roof has been damaged, is leaking or has any other kind of natural or man-made problem, give Shelter Roofing and Solar a call. We're glad to help.
New Roof Installations
When it's time to put a new roof on a home or an establishment, it needs to be done right, and it needs to be completed in a time-efficient and cost-efficient manner. Shelter Roofing and Solar doesn't have a near-perfect rating on review sites like Yelp (and social media as well) without reason! We have earned a rock-solid reputation over several decades of roofing in our community, and we work just as hard every day to maintain our stellar reputation.
Save Money with Shelter Roofing and Solar
Shelter Roofing and Solar has developed close professional relationships with some of California's best material suppliers over the many years we've been in business. Therefore, we are always able to compare prices and get the best deals on materials for our clients, saving them money. Plus, we operate quickly and efficiently, getting the job done right the first time. Shelter Roofing and Solar saves our clients money at every turn. If you or someone you know is looking for a professional roofer in or near Ventura County, google "Roofer near me," and click on the link that says "Shelter Roofing and Solar."
Also, as our name implies, Shelter Roofing and Solar provides solar installations. If you are interested in making your home energy efficient and getting off the electric grid, let us know. We'll send a technician to your home to give you a quote.